SDS-1
SDS-2
SDS-3 + 4
SDS-5(V)
SDS-6
SDS-7
SDS-8
SDS-9
SDS-200
SDS-800
SDS-1000
SDS-2000
Suitcase
ADT
SDE
SDX
XRack
MTX-9
MTM
TMI
SPM
EPB
Misc
Links
Documents
User guide
Demos
SDS9 (demo disk)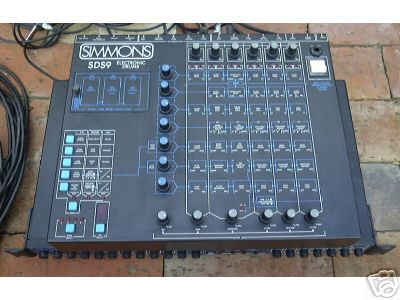 The official description:
The SDS9 is a 5-drum kit, comprising bass, snare and 3 tom-toms, triggering up to 40 complete "drum kits" (20 factory and 20 programmable presets).

Hitting a specific pad triggers the corresponding channel on the 'electronics'. A microprocessor controls the dynamic (or volume) of each individual 'hit' giving a sensitivity to playing previously unheard of in electronic drums: a 'real' drum feel, in fact!

The Simmons SDS9 gives you the sounds, feel and control of acoustic drums plus all the sounds and advantages of electronic drums.

To add to all this 'reality', the small pads (snare and toms) have a floating head, the snare also has a rim shot/cross stick facility and the bass pad is piston loaded – giving you the feel and playability of acoustic drums.

The SDS9 electronically synthesises the sounds of each drum. The bass, snare and toms use different methods of synthesis – each the most appropriate for the sound and control you require. The bass is software generated directly by the computer. The snare/rim are digital samples of acoustic drums. The tom-toms are synthesised using analogue circuitry. The tom also have unique 'second skin' switch to match the sound and response of a double headed acoustic tom.

The program/store memory facility allows you to build up your own drum sounds. These programmed sounds can be saved to tape, giving you almost limitless capacity to store new sounds, or recall previously stored sounds.

There is also a sophisticated automatic trigger that allows sounds to be reviewed without hitting the pads, and a mode where the drums can be triggered by button tapping.

The SDS9 is the first drum kit that has a built in MIDI interface. This is completely assignable in terms of voice changes and note values. By using the MIDI interface you can directly interface with many available keyboard synthesisers and play their voices from the pads. You can also use MIDI real time recorders/sequencers to record your playing and then playback the SDS9 exactly as you played it.

Another interesting feature of the SDS9 is its built in programmable echo. This programmable effect can be used for single slap-back echo or for long repeating echoes to produce stunningly unique rhythmic-ic-ic patterns and eff-eff-ects-ects.

We have done a lot of work using the latest high technology and computer aided design tools to develop the SDS9 – a new instrument, using new voicing techniques and new materials to give you everything any acoustic kit has to offer and much more besides – the kit that's destined to add a whole new dimension to your art.