SDS-1
SDS-2
SDS-3 + 4
SDS-5(V)
SDS-6
SDS-7
SDS-8
SDS-9
SDS-200
SDS-800
SDS-1000
SDS-2000
Suitcase
ADT
SDE
SDX
XRack
MTX-9
MTM
TMI
SPM
EPB
Misc
Links
Documents
User Guide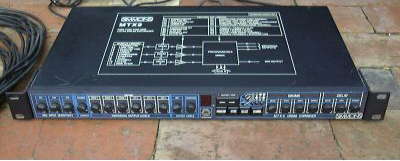 The MTX9 is a tom tom and latin expander especially designed for the SDS9 (-see my other auction!). 40 kits are available (20 factory and 20 programmable) that are arranged in 2x4 banks of 5 (as on the SDS9). It is a standard 1U 19" rack mounting unit.

The MTX9 voicing can be triggered either by pad inputs or via MIDI. In either case, the onboard microprocessor will interpret your playing technique and give you the sounds of studio processed acoustic toms, plus a range of latin percussion.

Sound generation is achieved via digital samples, some of which include fully professional signal processing effects. These samples can then be altered to achieve a variety of tones and colours.

The MTX9 incorporates a programmable mixer, capable of mixing MTX9 sounds with 3 external sound sources, (SDS9 toms for example) this gives the flexibility of other analogue/digital systems like the SDS7.

The MTX9 also features a programmable echo section. This can be used to produce many effects from slap back echo, to devastating machine gun echoes.